Tamburi Mundi 2018 - "GROOVISTAN"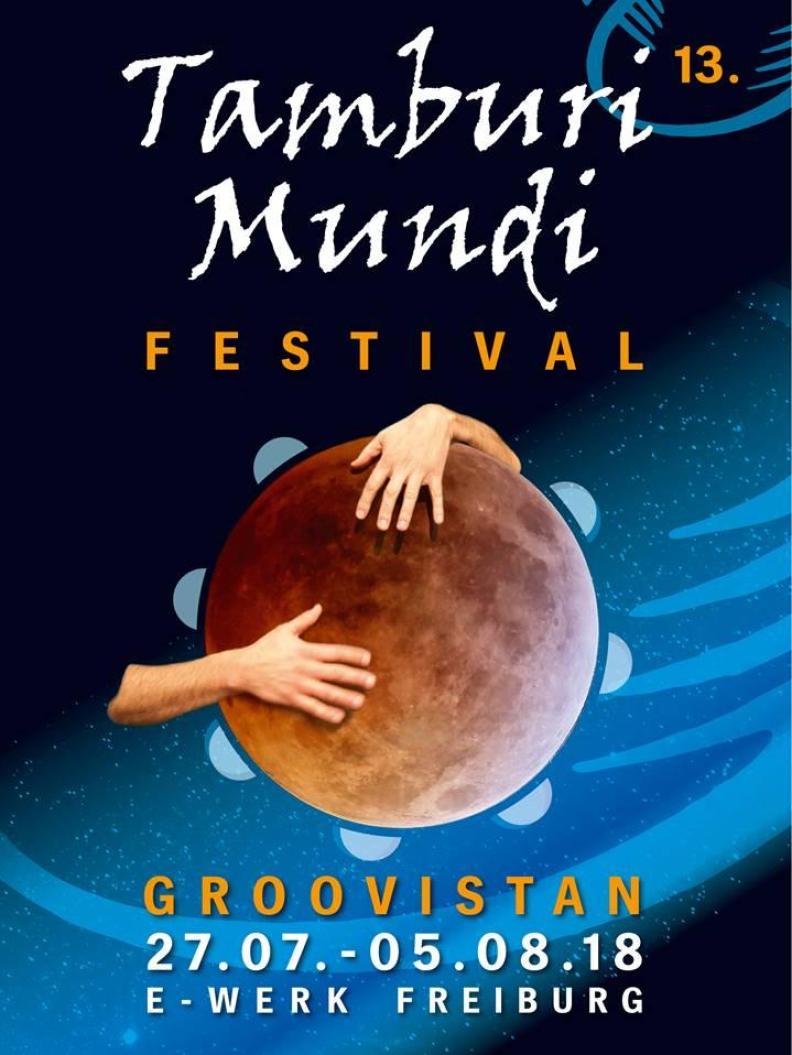 13th International Frame Drum Festival (27.07. - 05.08.2018)
Musicians from Italy, Israel, Iran, Germany, Ukraine, Russia, Turkey, England, Ireland, Portugal, the Netherlands and Syria went on a journey to "Groovistan"- the motto given out by festival director Murat Coşkun- accompanied by their exalted audience. And it grooved quite a lot in these ten days!
The 38 courses around the topic of frame drums, rhythm and singing were very well attended with 230 participants. The big Tamburi Mundi community was even larger and more international this year! In the heat of the summer in southern Freiburg, we sweated, drummed, learnt, laughed and jammed. Our Night of Drumming was particularly impressing, at the beginning under a clear sky, darkening more and more in the course of the evening and right at the end of this great night of drumming, with a loud clap of thunder, there fell the longtime expected rain!
Thanks to our sponsors (Schlagwerk Percussion and a private supporter), the association also in 2018 granted its promotional award, the Tamburi Mundi Frame Drum Award: Christine Hübner and Santino Scavelli, both students of the recently founded world music course of studies at the Popakademie Mannheim, convinced the jury with their wide range on the frame drums and their new approaches in music. The meaning of the word live was accentuated by the two musicians in a terrific award-winner concert, which was supported by visual effects and students of the Popakademie.
This years main lecturers were Reza Samani (Daf and Tombak), Zohar Fresco (frame drums), Nora Thiele (frame drums and riqq), Andrea Piccioni (frame drums and tamburello), Berkant Çakɩcɩ (Turkish rhythms), Matthias Haffner (pandeiro), Paolo Rossetti Murittu (ensemble and tamburello), Dave Boyd (Irish bodhrán) and Philipp Kurzke (frame drum). The afternoon workshops treated topics like rhythm and moves, voice and drums, Persian, Turkish, Arabian, Portuguese and Bulgarian music, Brazilian samba, multi percussion, composing and there was also a frame drum orchestra with 'konnakol' (Indian syllable language) under the guidance of Ramesh Shotham.
The drum fair was again internationally positioned with Majid Drums (D), Yalcinkaya Percussion (TR), Bruno Spagna (I), David Roman Drums (D) , raw percussion (D), Rui Silva Adufes (PRT), Jacek Zelazek (POL) and Guthschmidt Fußpercussion (D) and many an instrument was tested right on stage and in the courses.
"Where is the land of Groovistan?" asked the music journalist Stefan Franzen in his concert review. "It is everywhere, where rhythm exists...", is the answer. Regarding this summer, Groovistan was to be found especially in Freiburg. And the best is: Groovistan does not have any borders!
(Uli Kudla)