Tamburi Mundi 2013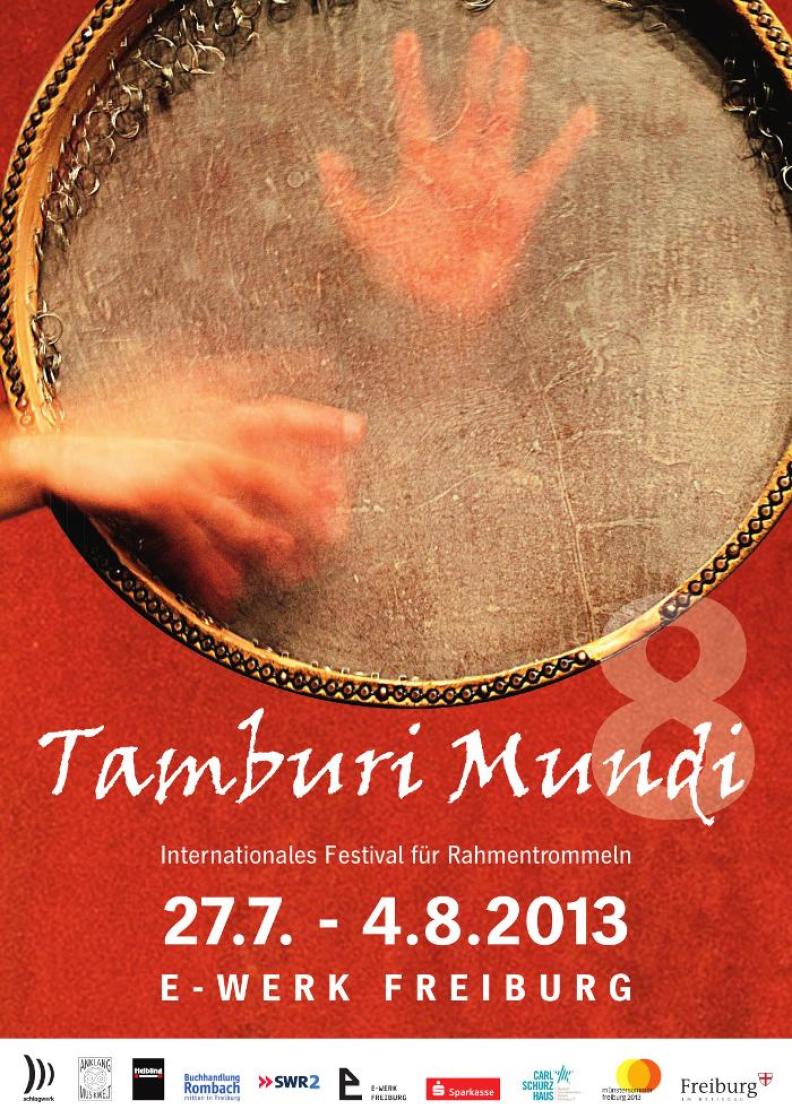 8th International Frame Drum Festival (27.07. - 04.08.2013)
The frame drum festival Tamburi Mundi 2013 in its eighth edition remained true to its orientation to present most versatile frame drum traditions on stage, in workshops and in many spontaneous sessions taking place at the E-Werk. Frame drummers from totally different countries and cultures met again while other instruments as well as vocals and dances were also present. For nine days, frame drum stars and newcomers, filigree technology and ear-splitting power, quiet sounds and pulsing rhythms could be experienced.
Among other, the possibilities were offered to attend a sensational baroque concert, experience a hot Gypsy night, listen to impressive solo artists or newly improvised frame drum orchestras. Murat Coşkun again during this year's festival managed to let the audiences experience his ideas of border crossing encounters in individual concerts and within and throughout the entire festival atmosphere.
Tamburi Mundi is not a previously finished product and is therefore quiet appealing. Since many concerts and artist constellations create an open process of which the results are not already evident until later during the festival week, gives the audience a feeling of having participated and experienced something very special.
Tamburi Mundi e.V. as festival promoter is in retrospective of course very content with the results: With 20 concerts and numerous other activities in which more than 40 courses were offered for different playing levels around the frame drum. More than 80 artists presented a very versatile program. And more than 4500 visitors attended the events of the festival.
First the program courses: Glen Velez, the frame drum legend and not a first time guest at the Tamburi Mundi is a meanwhile regular, and as festival director Murat Coşkun, repeatedly emphasizes a great honour for him personally as well as for the participants of the courses. No wonder were the Glen Velez' several days lasting frame drum courses fully booked almost immediately upon being announced. Master Glen Velez, appeared to feel quiet comfortable in the partly relaxed but at the same time work intensive festival atmosphere. He appeared as guest performer in a few concerts, but one concert evening had solely been dedicated to him, the composer Glen Velez who is meanwhile becoming quite famous especially in the US. During his concert he presented a high carat frame drum orchestra (G. Kumar, Y. Afterman, T. Tajima, N. Thiele, A. Kosimov and M. Coşkun) for which Velez´ played pieces, especially composed for this event.
In addition, frame drum courses for all levels were conducted. With Ganesh Kumar, Nora Thiele, Yshai Afterman and Marla Leigh, the very experienced and valued lecturers led the morning courses. In the afternoons, colourful workshops were offered in a great variety: movement, dance, vocals, Konnakol, improvisation and courses for frame drums from the tamburello up to the Usbekian Doyra. It would go way too far to name all the lecturers.
Three days of experimenting and practicing a drumming voices choir were Loire (Lori Cotler) and her course participants, followed by an exciting performance on the big stage.
The female outnumbering in the course program and on stage was quite obvious this time. Perhaps because of the festival project "The Sound of the Unknown", which was pointed out that the frame drum in most cultures had been a primarily by women played instrument and was therefore closely connected with dance and vocals.
Festival project 2013 "The Sound of the Unknown" and its artists
Eight female drummers and two dancers from various countries worked intensively together during this festival week to track down the unknown and to turn this encounter into an art to be heard and seen. The women's Saturday evening performance was of high quality and touching beauty as well acoustic wise as also in vision. Very inspiring and a gentle convergence, powerful....
Some of these ladies played also in other evening concert formations and were of course also lecturers in the festival's courses and workshops. The Indian Ghatam master, Sukanya Ramgopal reinforced the emphasis on India together with the Kanjira master, Ganesh Kumar. For the Gypsy night was the Darbukka performer, Raquy Danzinger, together with percussionist virtuoso, Mehmet Akatay on stage. The US drummer, Marla Leigh, convinced not only on stage but also in her frame drum courses, and Brazilian Angela Frontera, together with her duo partner Marcio Tubino, performed in a sold out "Brazil Percussion", concert. The two dancers, Gülay Sütçü from Istanbul (Roma-dance) and Bettina Castaño from Sevilla (Flamenco) extended in a wonderful manner the artistic spectrum of the festival and courses. During their highly cheered performance during the church concert "Tamburi Mundi meets Baroque Orchestra Freiburg", proved Bettina Castaño, that not only frame drumming may be wonderfully integrated in this music but also the rhythm strong clatter steps of a master dancer.
What now was the highlight of this year's festival? For myself there were several mountain tops and outstanding moments. One highlight was certainly the latter mentioned Baroque evening with the world famous Freiburg Baroque Consort including Hille Perl and Lee Santana plus the frame drummers, Glen Velez, Murat Coşkun and Pere Olivé with their guests Michel Godard and Maria Ferré. After the concert and while moving around with the audience it became immediately obvious that I was not alone with my enthusiasm. Due to the SWR radio recording it will be possible to listen to this very special concert once more on November 30th.
And then there was GOCOO. Not to be overheard, mighty and masterful and yet radiating did these eleven Taiko drummers from Tokio rocked the E-Werk in Freiburg and moved the audience into standing ovations. Not even festival director, Murat Coşkun, dared to count on such a brilliant final when some weeks ago the festival program went into print.
The quiet sounds offered certainly also beautiful sensations: The duo Yshai Afterman of Israel plus Itamar Erez, enjoyed an enthusiastic audience as did the solo artists Maryam Hatef (Iran) and Takashi Tajima (Japan) in the sold out Kammertheater.
While with the topic "Reading and Music", last year's Tamburi Mundi Festival had entered into a new region, were this year's guests two authors on different evenings. The German-Turkish author, Feridun Zaimoǧlu, read from his novel 'Leyla' and was supported by the frame drum playing of Murat Coşkun. Moroccan Gnawa drummer and Thomas Gundermann accompanied the extraordinary travel tales of Andeas Kirchgäßner who reported of a memorable encounter with music playing snake charmers in Marrakesch.
Mohammad Reza Mortazavi of Iran played as no other and yet, one didn't feel like being in a solo concert but feeling much more as if listening to a whole group of drummers. Flying hands and the prior description of a virtuosity to the highest extent was absolutely correct. Sensational! The applause was accordingly and significant for the enthusiasm of the audience. Noticeable was also the Doyra master, Abbos Kosimov, with his powerful percussion who in his homeland is a recognized star and in the particular music scene an insider tip of long standing.
Tamburi Mundi is a far beyond Germany's borders recognized International Festival. Even the participants are meanwhile travelling from all over to the internationally represented courses. Instrument exhibitors (this year from Spain, Italy, Japan, USA, Germany and Turkey) filled an entire auditorium. At the same time one became aware of the fact how intense the frame drum festival had become part of the culture versatility in Freiburg. Many participation offers, free of charge, a frame program for children and families as well as for people with handicaps, plus an initial evening with a sports drummer group from the Iran partner city, Isfahan. The festival is a constant part of Freiburg's summer, although the heat was causing some moaning this year. The auditoriums were full and there were always encounters with faces one had seen before while on some days it could be decided between four different concerts or visiting all of them.
What is Tamburi Mundi? A meeting of frame drumming stars arousing the interest of the world's experts? A big happening!? A career start-up for young talents!? A "Family Meeting", of the frame drumming scene? A continuous concert event!? Or the sinking into rhythm and sounds? Tamburi Surprise? I think it's something of everything!
For all of you who would like to know the following: The Festival 2014 will again take place in Freiburg in the beginning of August.
(Uli Kudla)