Rui Silva (Portugal)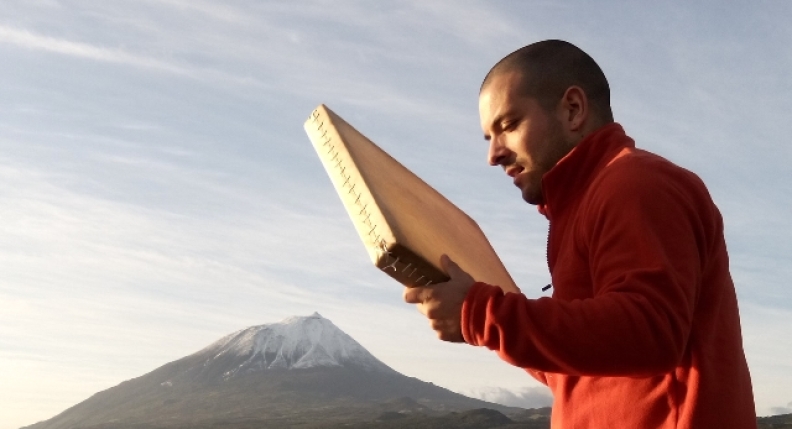 Rui Silva (Portugal)
Rui Silva was born in 1984 in Coimbra. > 1984 Coimbra. Musician and adufe artisan.
Rui studied classical percussion at the Espinho Professional Music School (2002-2005) and completed his BA at the Oporto School of Music and Performing Arts (2005-2009).
Under the supervision of the legendary spanish percussionist Pedro Estevan,
Rui completed his Master of Arts in Interpretación of Musica Antigua -
Historical Percusion, at Escola Superior de Musica de Catalunya/UAB (2012, Spain).
Rui plays regularly with Casa da Música Baroque Orchestra (Oporto),
Sete Lágrimas Consort of Ancient and Contemporary Music (Lisbon),
Capella Sanctae Crucis, Nouvelles Musiques Anciennes du Portugal
(Lyon), Ludovice Ensemble, L´Effeto Ensemble, among other projects as
a free lancer, like "Talvez, Monsanto…" the play by Ricardo Pais at
the National Theather about the portuguese adufe village of Monsanto (2020).
Rui's performative practice is strongly influenced by the oral tradition of the 'adufe', the traditional square frame drum from Portugal. As part of his life work and academic research, Rui has carried out consistent field work with the 'adufeiras' (women who traditionally play adufe) and artisans of the Idanha-a-Nova and Paúl region. He has observed, recorded, and analyzed the construction
process, the performing and technical practice, the language (songs) and the cultural context.
In the last 10 years, Rui developed the concept of "Modern Adufe" as a way of exploring and defining new performing techniques for the adufe based on different traditional frame drums traditions from around the world.
As educator, Rui created an adufe learning method, based on the traditional rhythms and songs, and gave more than 90 workshops/courses to more than 900 people in Portugal and abroad. He also made presentations at conferences, authored articles, and participated in radio and television programs, and exhibitions.
In 2013 Rui launched his artisan brand, "Rui Silva Adufes" (adufes.com) combining traditional construction techinques with new ideas, technology and innovation, which are elevating this traditional instrument to a new performative level in 21st century.
Rui participates in Tamburi Mundi - International Frame Drums Festival
since 2013, as a performer, teacher and artisan. He lives in Pico Island, Azores since 2015.
Web: