Marla Leigh (USA)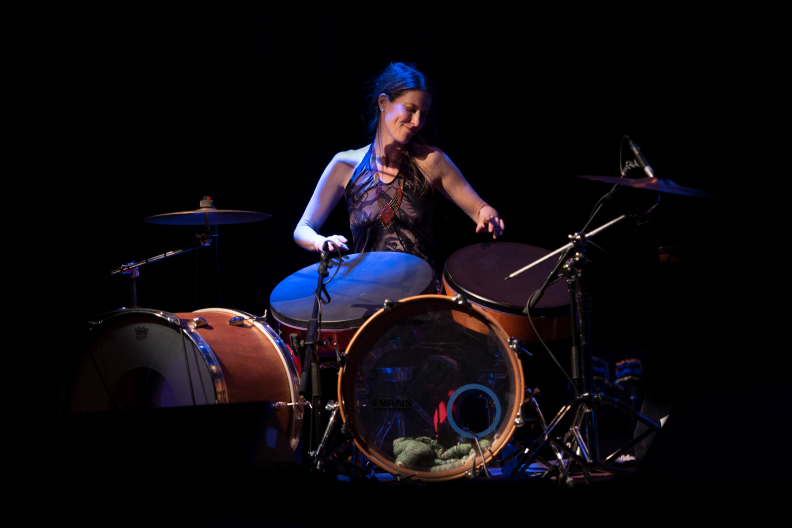 Mara Leigh (USA)
Bio
Marla is a Grammy Nominated musician. She carries the gift of being an inspiring and energetic educator, and soulful, charismatic performer. She is best noted as a frame drum specialist, but also plays other types of hand percussion and flute!
Marla loves education and has been teaching for over two decades. In 2016, Marla created one of her dream projects, "Frame Drum Academy Online", an online resource for learning frame drumming. Marla's Academy currently hosts two signature programs, Frame Drum 101 (Beginner) and Frame Drum 202 (Intermediate) – Each program features over 300 hundred instructional videos – and is enjoyed by frame drum students from around the world.
Marla also offers drumming retreats, workshops and residency programs worldwide. She also has a signature series frame drum with Cooperman Drum company, called the "Marla Tar." She has presented frame drum clinics at: Tambouri Mundi Festival, NFADA, Zurich Arts Festival, California Institute of the Arts, SUNY Albany, University of Banff, California PAS Day of Percussion and Asheville Percussion Festival.
Marla passionately believes in the power of music to help transform consciousness. As a composer, her music has been featured on Hala Khouri's yoga DVD, "Yoga for Stress Release", Janet Stone's iphone Yoga application, the movie "Bold Native" and "The Cellist." She was also commissioned to compose music for University of Kentucky and Brooklyn Middle School. Marla will be releasing an album of her own percussive inspired works in 2019, stay tuned...
As a performer, Marla has toured throughout the USA, Canada and Europe, playing both as a soloist and with ensembles: She looks forward to touring more in the coming years with her new compositions
Marla received a Bachelor and Master Degrees from the California Institute of the Arts, and has also studied at the Ali Akbar College and at the Bhavan Center. She has studied with some of the best in the" business". including Glen Velez, John Bergamo,, Randy Gloss, Swapan Chaudhuri, Poovalar Srinivasaan, Alfred Ladzekpo, Kobla Ladzekpo and Trichy Sankaran.
Homepage
www.marlaleigh.com/framedrumacademy