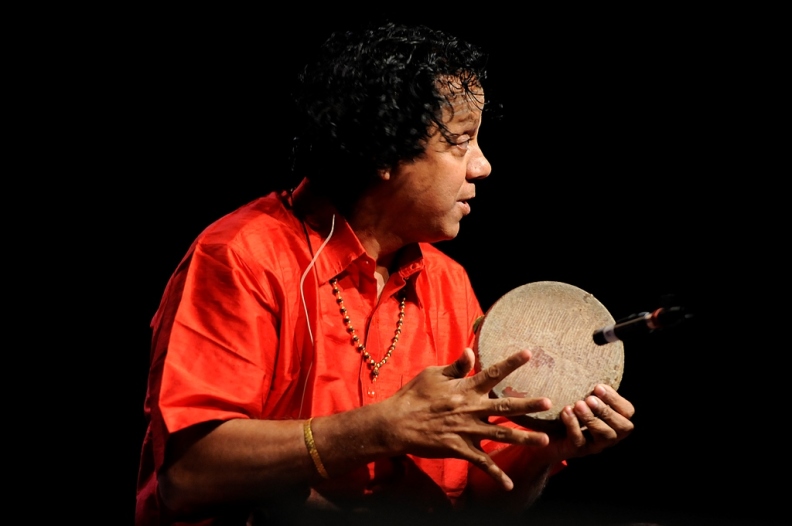 Ganesh Kumar (India)
Bio
Ganesh Kumar is among the world's leading exponents of classical percussion instruments from South India, the Kanjira ( South Indian Frame Drum ) a one sided frame drum of stretched monitar lizard skin with brass jingles fitted at the wooden rim. Disciple of Sri T R Hari Hara Sharma and T H Subash Chandran, Ganesh established himself as one of the world's leading Kanjira artist and has been mainly instrumental in expanding the scope of the music of the Kanjira beyond purely Carnatic South Indian Classical Music. Through his works he proved that this instrument is not confined to Indian classical music alone as it perfectly blends with other traditions of world music.
Ganesh Kumar frequently perform with many western musicians in USA and Europe. Using concerts, lecture demonstrations, master classes and workshops, Ganesh Kumar has actively participated in the creation of a new form of music, a fusion of Jazz, pop and traditional carnatic music that critics have recognized as signaling the growth of what a news article in "The Hindu" called a " whole new genre of Indo-Western Classical Music". Ganesh Kumar earned critical acclaim around the globe for his work on Kanjira with many prominent musicians in India and in the West and gained reputation as one one of the brand ambassador of Indian Classical Music.
Ganesh received the prestigious Fulbright Fellowship from US Department of State and he taught Kanjira and other percussion instruments in various Universities in North America through his workshops and master classes. Received Maryland State Arts Council Fellowship for Folk Arts and also released his signature series Kanjira from the Cooperman Drum Company in Vermont under the Artists Innovation Series. To reach out all the students of percussion, he has released a two volume instructional DVD titled "The Art of Kanjira".
Homepage