Tamburi Mundi 2015 - ANNIVERSARY EDITION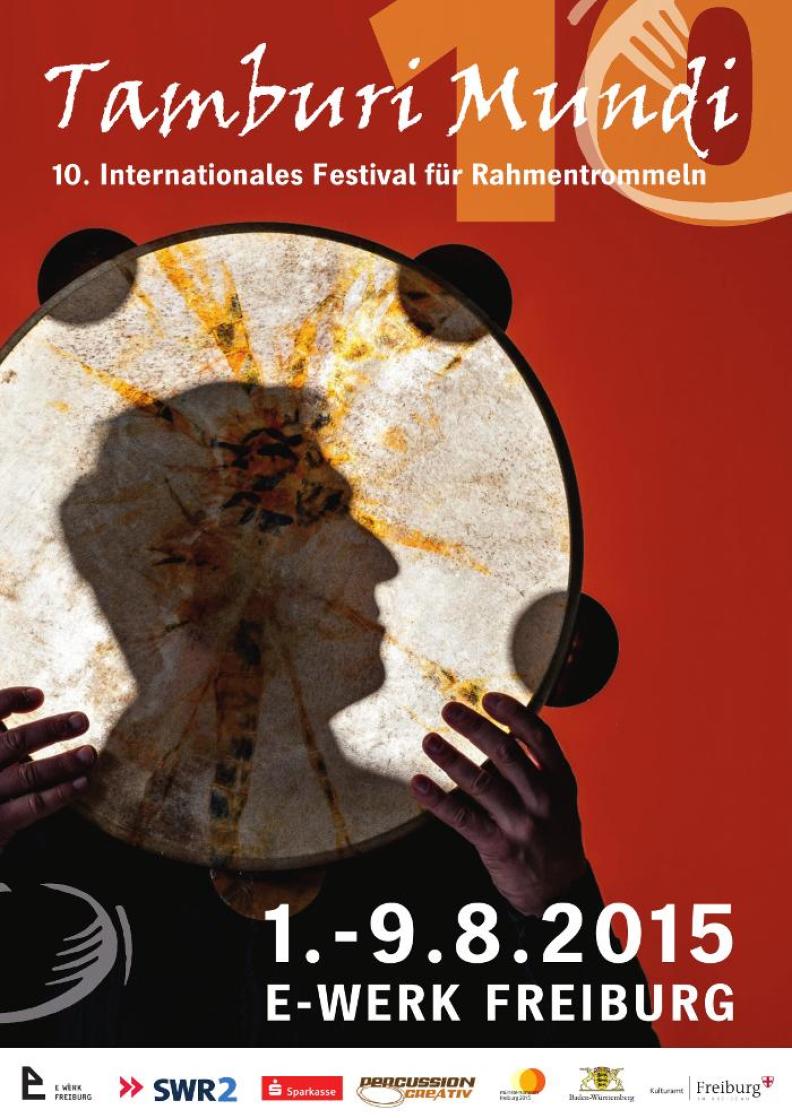 10th International Frame Drum Festival (01.08. - 09.08.2015)
The worldwide largest festival for frame drums ended in a very spectacular way. 43 concerts with renowned artists and more than 30 workshops to drum and sing together, inspired nearly 5000 drum fans out of the whole world.
The tenth Tamburi Mundi Festival was not only an encounter of the stars of the scene. It was also a meeting of friends, whose hearts are beating for the frame drum- this inconspicuous instrument that is at home in almost every part of the world, uniting people and musical traditions far beyond borders of countries and religions. The festival director Murat Coşkun was visibly happy: " It was an anniversary celebration that could not be better! We had so many musicians and workshop participants like never before, each of the concerts was an outstanding performance and the atmosphere was exhilarating."
Many a concert went far beyond its musical message: a benefit concert with very young drummers supported war-affected children from Syria, Persian female musicians, who in their home town are not allowed to play their music publicly on stage, gave a great concert. One concert evening was dedicated to Freiburgs friendship with the city of Tel Aviv.
The biggest echo in the media was evoked by the opening concert Face to Face: Artists from Israel and Iran presented a very touching program which they compiled before all together in Freiburg- it had a very strong message, a message that went far beyond appeal or striking slogans.
The tenth anniversary of the festival was celebrated with many international frame drum artists who had been influencing and accompanying Tamburi Mundi for many years. Thanks to their passion and thanks to their music Tamburi Mundi could grow to what it is today! A very special thanks for his long lasting support and inspiring presence at the festival goes to Glen Velez, the founding father of the modern frame drum movement and patron of the festival. His workshops are still amongst the highlights during the festival, as always they where completely sold out. Also other frame drummers of the first hour celebrated our anniversary with us: Ramesh Shotham, Michael Metzler, David Kuckhermann, Andrea Piccioni and Gilson de Assis. By the way, Piccioni and de Assis together with festival founder Coşkun, in they year 2005 gave the inspiration to the name of the festival with their Tamburo Mundi Trio. Together with other percussionists like Yshai Afterman, Ganesh Kumar, Mohsen Taherzadeh, Maryam Hatef, Suat Borazan, Katharina Dustmann, Paolo Rossetti Murittu, Pere Olivé Aymerich, Rui Silva, Takashi Tajima, Dave Boyd, Philipp Kurzke, Peer Kaliss, Sebastian Flaig, Uta Schilling, Bruno Spagna, Bill Saragosa and Heiner Rico Kirsch, who are also closely linked to the festival for years, they were practicing during the courses, workshops, sessions and concerts this border crossing frame drum music, that is characteristic for Tamburi Mundi!

On these occasions, the incredible versatility of the frame drums was visible and audible: the Oriental Riqq, the North African Bendir, the Arabian Mizhar, the Italian drums Tamburello and Tamorra, the Irish Bodhran, the Spanish Pandaretta, the Portuguese Adufe, the Indian Kanjira, the Persian Daf, the Uzbek Doyra, the Brazilian Pandeiro, own creations like the Japanese Tazy-Drum, the Turkish Davul and a lot more family members of the worldwide frame drum family.
The Tamburi Mundi course system during our festival week is well-tried: the participants can book a course package for two, four or six days and within this package they can choose their specific workshop topic, according to their interests.
For the first time we had this year some short presentations of our instruments exhibitors, who during the lunch break presented their novelties. With Schlagwerk (D), Majid Drums (D), HUBB (TR), Elman Percussion (IL), Al-Duff (P), Yalcinkaya Percussion (TR), Takashi Tajima (J), Bruno Spagna (I) and Bekir Percussion (TR/NL), an international group of instrument makers showed their instruments.
Thanks to Schlagwerk Percussion, we were able to award the Tamburi Mundi Frame Drum Award for the second time, with the aim to promote and encourage young and upcoming frame drummers. With the drummer duo BeatBop, alias Jonas Völker und Timo Gerstner, a dignified, freshly funny and very creative awardee was found.
Daily there where up to three concerts of different styles. Pure percussion could be enjoyed during the topic events like Indian Dialogues, Anatolian Drums, Tamburin Men, Handpans, Ibero-Brazil-Connection, the award winner concert BeatBop and the Tamburo Mundi Trio with special guests.
The highly acclaimed, great crossover projects where less puristic, for they where combining frame drums for example with string orchestra, tango, flamenco dance, jazz, baroque and renaissance music. A very impressive concert event was the Long Night of the Drums. All in all a number of 20 international percussionists on five stages presented 5x5 different programs from traditional to contemporary music, finally converging after midnight into the Never Ending Drumming...
And the likewise versatile and witty birthday concert Celebration 10! brought together on stage 21 artists from most different countries like USA, Turkey, India and Japan.
To note: The next Tamburi Mundi Festival will take place from the 30th of July 2016 until 7th of August 2016 at the E-Werk Freiburg.
(Uli Kudla)