TAMBURI MUNDI FRAME DRUM DAYS
TAMBURI MUNDI FRAME DRUM DAYS    28.-30.01.2022
An online festival in mini format! A colorful program of impulse workshops, rhythm training with international instructors, a two-day frame drum course with Glen Velez, frame drum talk sessions and much more!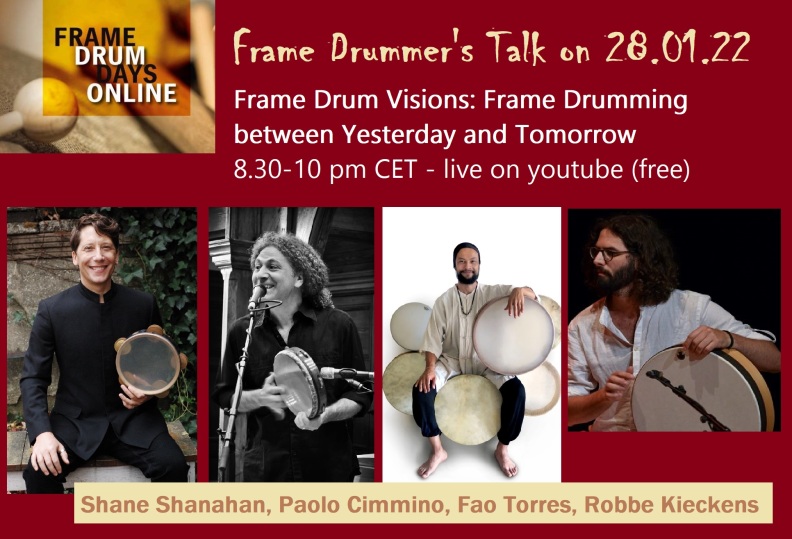 Frame Drummers` Talk on 28.01.22
Frame Drum Visions: Frame Drumming between Yesterday and Tomorrow
| | |
| --- | --- |
| Guests: | Shane Shanahan (USA), Paolo Cimmino (Italy), Robbe Kieckens (Belgium) & Fao Torres (Colombia) |
| Time: | 8.30 to 10.00 pm CET |
| Online: | YouTube |
| Price: | Free! |
Frame Drummer's Talk on 29.01.22
My Voice and my Drum
Guests:

Tuğba Gülyeşil (Turkey), Isabel Martín (Spain) &
Joannie Labelle (Germany/Canada)

Time:
8.30 to 10.00 pm CET
Online:
YouTube
Price:
Free!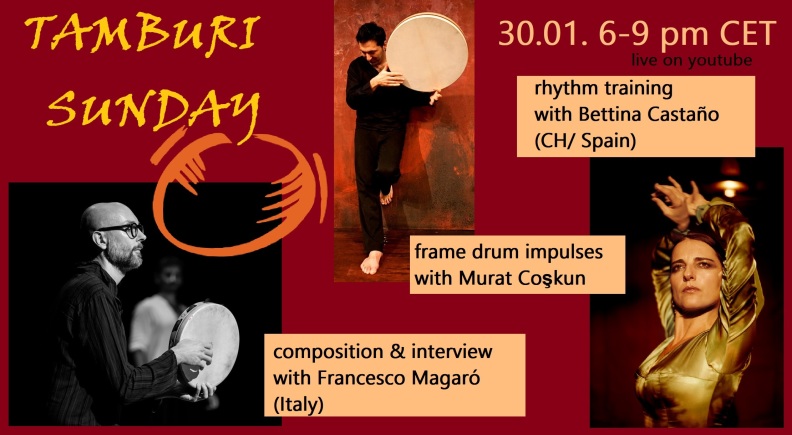 Frame Drum Channel on 30.01.22
6.00 to 9.00 pm CET
With: Bettina Castaño, Murat Coskun & Francesco Magarò
Free & on YouTube!
information
The workshops will be recorded. Afterwards, Tamburi Mundi will provide all participants with a copy of the recordings.
Important: Tamburi Mundi assumes no liability, if technical problems occur during the recording and not everything can be played back afterwards.