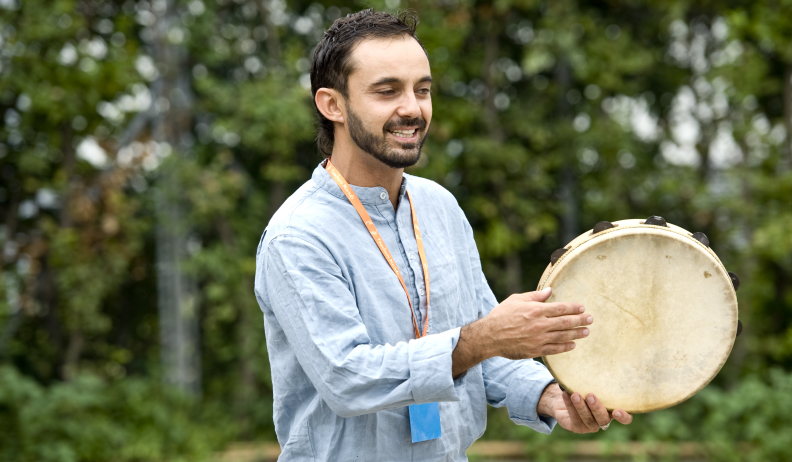 Frame drums and music therapy - Paolo Rossetti Murittu
Online:
Zoom-Meeting
Time:
Monday, 02.08.21, 10 am - 1 pm CEST
Lecturer:
Paolo Rossetti Murittu (Italien)
Instruments:
All kinds of frame drums
Course Content

Italian percussionist and music therapist Paolo Rossetti Murittu has been a frequent guest at Tamburi Mundi in recent years as part of various projects. Paolo is a sought-after lecturer for the Italian frame drum Tamburello. At the "Stanza dei Tamburi" and the "MOCOBO Music School" in Rome he gives percussion lessons for children. Paolo is also intensively involved in didactics and music therapy. As an expert in the "Benenzon" model, a music therapy approach from Argentina, he works with people with communication problems or autistic syndromes.

In his workshop, Paolo teaches simple melodies, pieces and exercises that bring people together in inclusive groups using rhythm, sound and music. The techniques learned can be used in groups with adults as well as with children.

The course is aimed at educators, musicians and all people who work in an artistic, musical or social context and want to get new impulses for their work with groups.

Course Language:
English
Level:
Open for all levels!
Please Note:
Lessons are held via zoom meeting. Some days before the start of the lessons we offer a free introduction into zoom. After registration we will send you more information.
You will get the zoom link for your lessons via email a few days before the start of the festival.
The programme overview of the daily Tamburi Channel will be published in July here on this website.