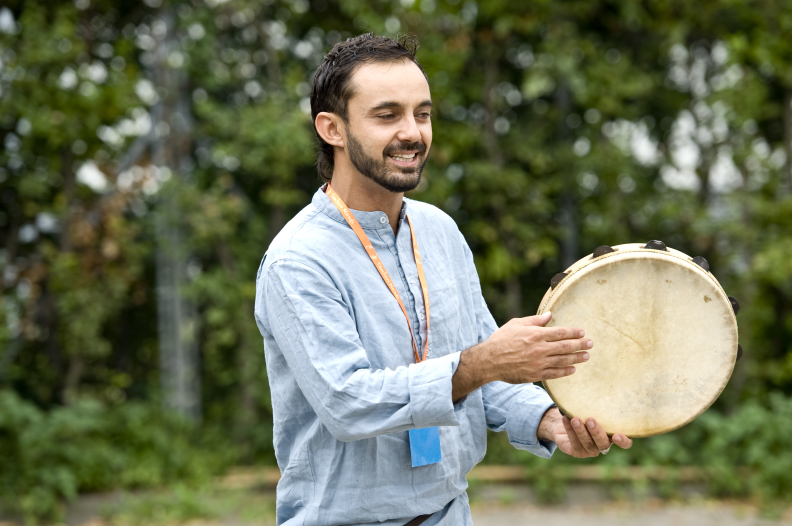 Paolo Rossetti Murittu (Italy)
The vivid and expressive percussionist Paolo Rossetti Murittu was born in a little village in Italy.
The Italian frame drummer has made himself a name as a lecturer and musician at Tamburi Mundi since 2012 and emanates from a traditional rural musical culture.
His expression nourishes from the clash of tradition and modernity as well as from the development of a new style that is able to combine both elements. Among his repertoire of instruments are particularly the traditional Italian percussion instruments like tamburello, tammorra, castagnets and the voice, which in many traditional songs plays a significant role. He plays also frame drums like bendir, riqq and daf, the Flamenco and Afroamerican cajòn, the Udu drum and the hang.
He studied percussion with the master teachers: 
Alfio Antico (IT), Zohar Fresco (ISR), Glen Velez (US), Murat Coşkun and Mehmet Akatay (TUR), Michael Metzler (D), Andrea Piccioni (IT), Abdallah Muhammad (EG), Mohsen Taherzadeh (IR), Nima Janmohammadi (IR), Abbos Kosimov (UZB). 
He studied Indian bol language and tabla with M° Shanka Chatterje, teacher of the Colkata Music University, in the "Fondazione Cini" in Venice.
Artistic Collaborations: "Pera Ensemble", "L'arte del Mondo orchestra", "Cantsilena", "Banda Connemara", Murat Coskun and Tamburi Mundi Orchestra, "Contraclau ensemble", "Micrologus", "Cappella Antigua Bambergensis", Ariana Saval, Hirundo Maris.
Paolo Rossetti Murittu is chairman of the association Frame Drums Italia, which organizes since 2009 frame drum festivals in Italy.
Paolo, as an expert in the Benenzon Model (school of music therapy of Argentina), also works with people that have communication problems and patients with autistic syndrome. He has been working in the educational music and music therapy setting since 2007 and cooperates with MUSICABILE ONLUS, (Rome), the University "Università degli studi Roma 3" and with the conservatory of Music of L'Aquila. He works intensively in several branches of the Italian health care system in Rome following the Benenzon model of music therapy. He is a member of OSI (Italian Orff Schulwerk) and he also teaches preparatory music courses for children at the Stanza dei Tamburi, and MOCOBO Music School in Rome.
Website